"Fall Into Change" Sweepstakes
We're so excited for our Fall 2021 Sweepstakes! Our mission at RoundUp App is to help nonprofits, like you, gain a reliable source of monthly income through our platform. And what better way to encourage new donors than through a sweepstakes?
Between September 22 and October 31, we'll be cheering you on and providing you with helpful tools and resources for running a successful RoundUp App donor acquisition campaign. It's the perfect opportunity to gain new monthly donors before diving into GivingTuesday and year-end fundraising.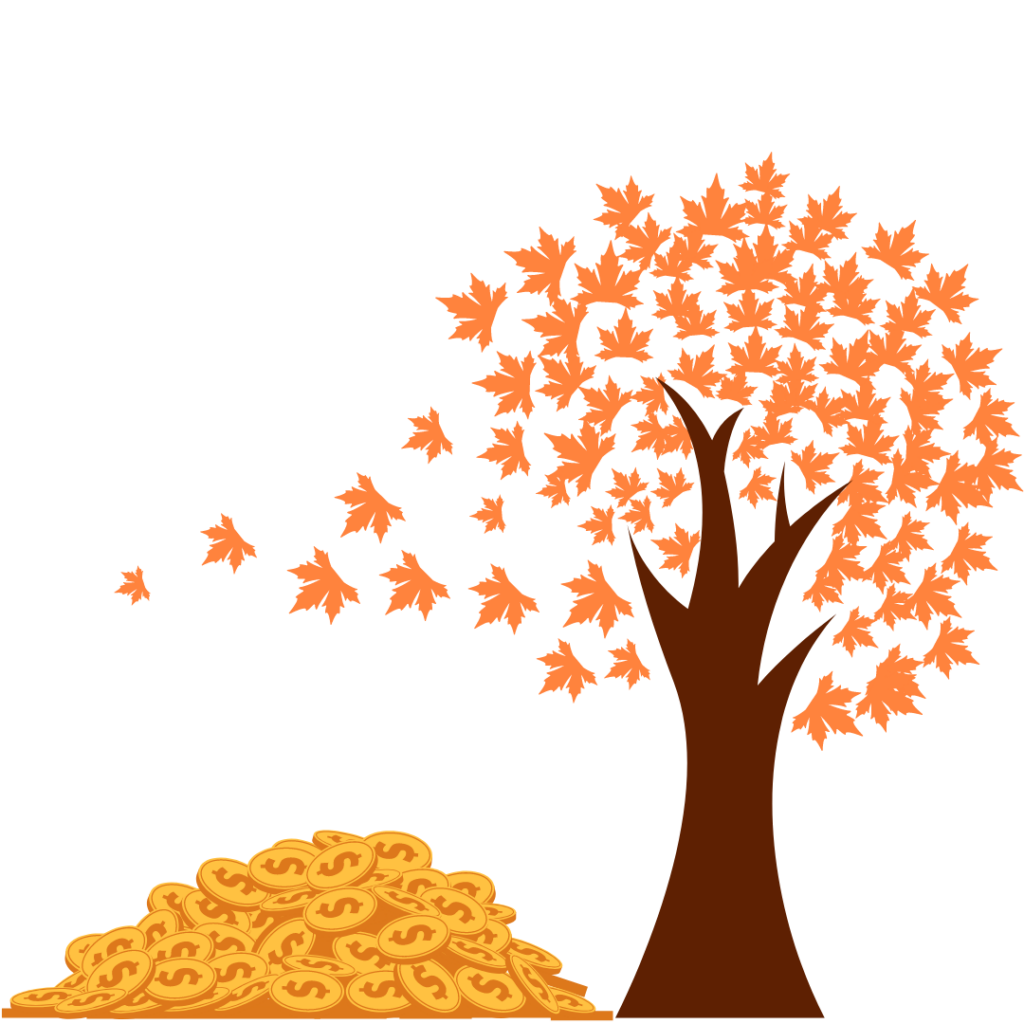 Sign up your nonprofit with RoundUp App for free today!
Sweepstakes Terms and Conditions
Eligibility
The Fall Into Change Sweepstakes ("Sweepstakes") is open to all United States 501(c)3 organizations who have registered with RoundUp App. Void outside the USA in Puerto Rico, the US Virgin Islands, and other United States territories and possessions. The Sweepstakes is subject to all applicable federal, state, and local laws and regulations and is void where prohibited by law.
​
Sponsorshop
The Sweepstakes sponsor is Flourish Change Inc, located at 2802 Manor Rd, Austin, TX 78722. Sponsor and its respective affiliates, subsidiaries, successors, assigns, agents, representatives, officers, director, shareholders, and employees, and any entity involved in the development, production, implementation, administration, judging or fulfillment of the Sweepstakes, including without limitation, the immediate family members of such individuals, are not eligible to participate. Sponsor will conduct the Sweepstakes substantially as described in these Official Rules.
​
Entry Period
This Sweepstakes begins on September 22, 2021 at 12:01AM CST and ends on October 31, 2021 at 11:59PM CST.
​
How to be Eligible for the Drawing
Any nonprofit who adds 10 or more Active RoundUp App donors during the Entry Period is eligible for the Grand Prize drawing. An Active RoundUp App Donor is defined by a user who has connected a valid card to their RoundUp App account and has made at least one donation greater than $5 during the Sweepstakes Entry Period.
​
Limitations on Entries
No third party entry or entry through any sweepstakes service is permitted. Any person who attempts or otherwise encourages the entry of multiple or false contact information under multiple identities or uses any device or artifice to enter or encourage multiple or false entries, as determined by Sponsor, will be disqualified. Use of robotic entry devices is strictly prohibited.
​
Prizes
Two Prizes will be awarded. The Grand Prize consists of a $1,000 donation to the selected nonprofit. The second prize is a $500 donation to the nonprofit that adds the most RoundUp App donors during the Sweepstakes Entry Period. The same entity cannot win both prizes.
​
Drawing
Winner will be selected in a random drawing from among all eligible entries collected during the Entry Period taking place on or about the Sponsor's principal place of business. The drawing will be conducted by the Sponsor, whose decisions and interpretations on all matters relating to the Sweepstakes and these Official Rules are final and binding in all respects. The winner of the $500 prize will not be eligible for the drawing of the $1,000 prize. Sponsor reserves the right to disqualify any entrant or winner and may refuse to award a prize to an entity that is not eligible or has violated a rule, gained unfair advantage in the Sweepstakes, or obtained winner status using fraudulent means. If winner is found to be ineligible or not in compliance with Sweepstakes rules, winner will be disqualified and an alternate winner will be awarded the prize in a separate random drawing. Winner will be notified by email. 
​
Odds
The odds of winning will depend on the number of eligible entries received, according to the eligibility requirements in the Sweepstakes.
​
Winners' Names
The names of the Winners are available only within ten (10) days after the close of the Sweepstakes. To receive the names of the Winners, where permitted by law, please contact Sponsor by email at info@roundupapp.com
​
General Terms
By entering this Sweepstakes, you promise to abide by the Official Rules and decisions of Sponsor, which will be final and binding in all respects. Sponsor reserves the right, at its sole discretion, to refuse, disqualify or withdraw any entry at any time. 
​
WARNING
ANY ATTEMPT BY ANY PERSON, WHETHER OR NOT AN ENTRANT, TO DELIBERATELY DAMAGE, DESTROY, TAMPER WITH OR VANDALIZE ANY SPONSOR-OWNED WEBSITE OR MOBILE APPLICATION OR RELATED SOCIAL NETWORKING SITE, THE ENTRY PROCESS, OR OTHERWISE INTERFERE WITH OR UNDERMINE THE LEGITIMATE OPERATION OF THE SWEEPSTAKES, MAY BE A VIOLATION OF CRIMINAL AND CIVIL LAWS, AND SPONSOR RESERVES THE RIGHT TO SEEK DAMAGES AND DILIGENTLY PURSUE ALL REMEDIES AGAINST ANY SUCH PERSON TO THE FULLEST EXTENT PERMITTED BY LAW.