Meet the Nation's Largest RoundUp App
RoundUp App is the #1 "spare change" fundraising tool for nonprofits, helping you gain an extra source of monthly donations.
RoundUp App By The Numbers
The Importance of Recurring Giving
RoundUp App helps your nonprofit stay on the forefront of giving trends that are here to stay, including the increase in monthly giving and the shift towards giving from a mobile device.
of online giving comes from monthly gifts.
M+R 2021 Benchmarks Report
of online donations are made from a mobile device.
Blackbaud 2020 Charitable Giving Report
months is the average length of a recurring gift.
Classy 2020 State of Modern Philanthropy
Register your nonprofit with RoundUp App and fill out your custom registration page.
Share RoundUp App with your audiences. Use our admin portal's library of templates.
Receive donations as a direct deposit each month through Stripe or receive a check in the mail from our DAF.
Nonprofits with 0-74 donors are charged a $15 flat rate fee* and nonprofits with 75+ donors are charged 1%. Fees help cover RoundUp App's standard features including detailed reporting, fundraising materials, customer support and more.
*The flat rate fee comes out of the nonprofit's donations. RoundUp App never bills nonprofits making less than $15/month to cover the difference.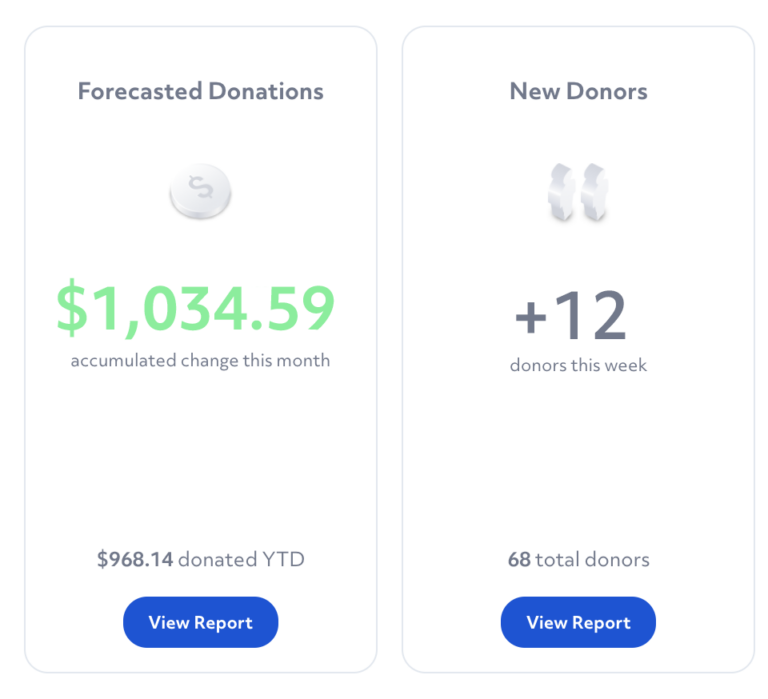 Not sure yet if RoundUp App is right for your nonprofit? Sign up for emails to learn how RoundUp App can help you add a new, reliable source of monthly income to your online fundraising program. No Access to Card Numbers
We use Stripe for payment processing, and only Stripe has access to user card information.

Secure Credentials
We never have access to your financial credentials. We use Plaid to provide read-only transaction history.

256 Bit Encryption
All information is protected by 256 bit encryption keys.