You've Goat to Be Kidding Me: How 5 Days Brought in Thousands
Goats of Anarchy is an animal sanctuary that rescues and rehabilitates goats with disabilities. When they partnered with RoundUp App, we were baa-rely able to contain our excitement for their launch campaign!
Kid Stuff
When it came time to fundraise, Goats of Anarchy leveraged their social media assets to promote their RoundUp App program. Following the golden-round-up rule of fundraising, they made a repeated 'ask' within a concentrated time frame. The repetition of messaging garnered them quick results that we are hoofs over tails to tell you about.
Additionally, the use of compelling animal images and clear language helped supporters to confidently sign up to donate to Goats of Anarchy, knowing that their coins go directly to aid their adorable silly billys.
Promotion Strategy and Revenue Ram-ifications
Here's the promotion calendar Goats of Anarchy followed for their RoundUp App launch campaign:
3 Facebook posts over the course of 5 days, resulting in 143 shares and 130 comments.
3 Instagram posts over the course of 5 days, resulting in 27,000 likes.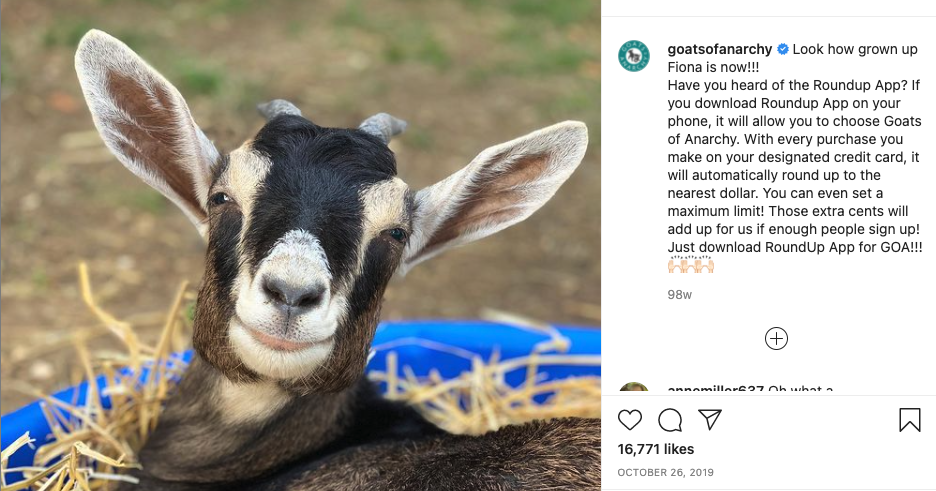 Those social media posts allowed Goats of Anarchy to gain 137 new RoundUp App donors in under a week! That should translate to over $2,000 per month in new recurring revenue.
To continue growing their program, Goats of Anarchy added RoundUp App to their Support page. Their RoundUp App section clearly outlines how RoundUp App works and uses a distinct call-to-action.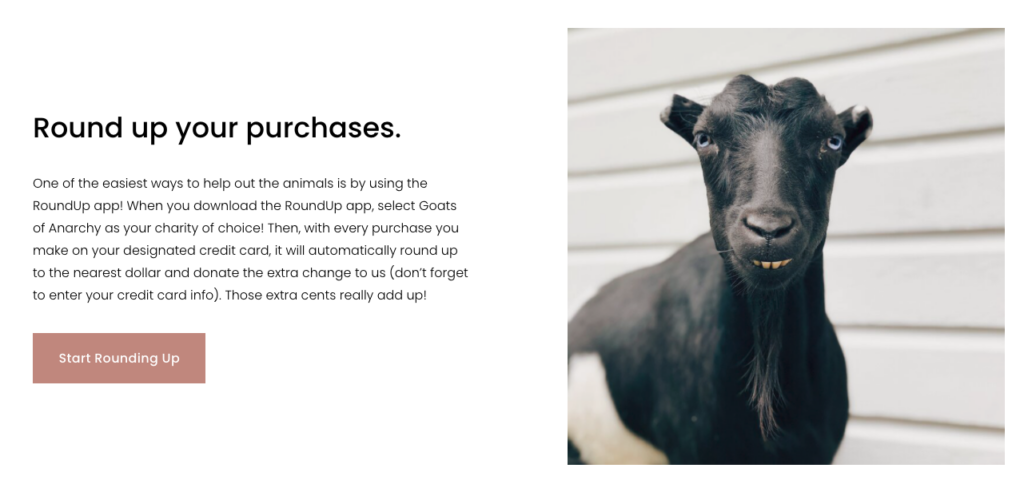 There's no scapegoating the value of social media for successful fundraising. If your nonprofit would like to launch a social media campaign but is not sure what to say or how to say it, we are here to help! Our Marketing Library for registered nonprofits makes promotions easy with ready-to-post templates and How-To guides. This is just one of the many reasons to choose RoundUp App for your fundraising.
Perhaps the cadence of when to post and when to email has you head-butting the walls. Have no fear! Our blog on how to maximize your social media includes tips on when to post and even the best time of day to boost results.
However you bellow, be sure to use all your platforms and don't forget to look for in-person opportunities to ask for participation.
Is your nonprofit ready to start herding goats spare change donations?
Register with RoundUp App or visit our Nonprofit page to learn more about growing a recurring revenue stream.