Our new admin dashboard is here and we wanted to give all of our users an update on their new and improved experience.

This new dashboard focuses on highlighting the most important information nonprofits need to know to make their RoundUp programs a success! We've streamlined our design, added new views for donors and reporting, and enhanced our donor management tools.
Here's what's been updated:
A brand new home screen
Enhancements to reporting
Enhancements and new features for donor management
Bug fixes and improvements
Your brand new home screen
We spend a lot of time talking to nonprofits about what tools they need to be successful and what data they need to prove their success. With those two points in mind we've updated the view you'll see when first logging into your admin dashboard.
We've focused on highlighting key metrics of success that you can use to prove the impact of your RoundUp program. We've removed our donations over time metric from the home screen and moved it to its new home in the "donations" section.
On the home screen, you'll now see metrics on total donations, average donations per month, active donors, and donors by type. You'll also be able to set a donor goal for your nonprofit.
Improvements to reporting
As we've updated your home screen, we've also enhanced your donor and donation reports. You'll now be able to find reports on all your donations under the new "donations" section.
For more detailed information on your individual donors, we've created the donors section. Here you'll find information on your donors along with new donor management and filter tools.
Donations page
The donations section of your dashboard will now give you a cleaner, more flexible view of all of your donations. You'll now see a total of all your donations at the top, along with a list of all donations made to your nonprofit.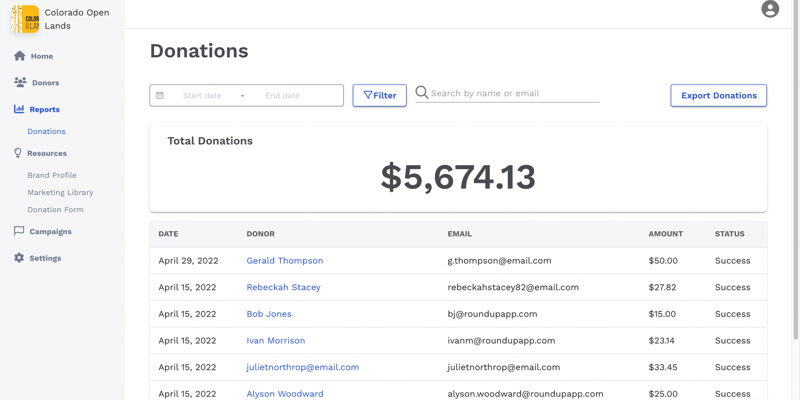 Your donation report is filterable over time, allowing you to track donations with custom start and end dates. Now you'll be able to better track your donations on your nonprofit's timeline.
We've also added features for searching for specific donations. You'll easily be able to find donations made by an individual's name or email address!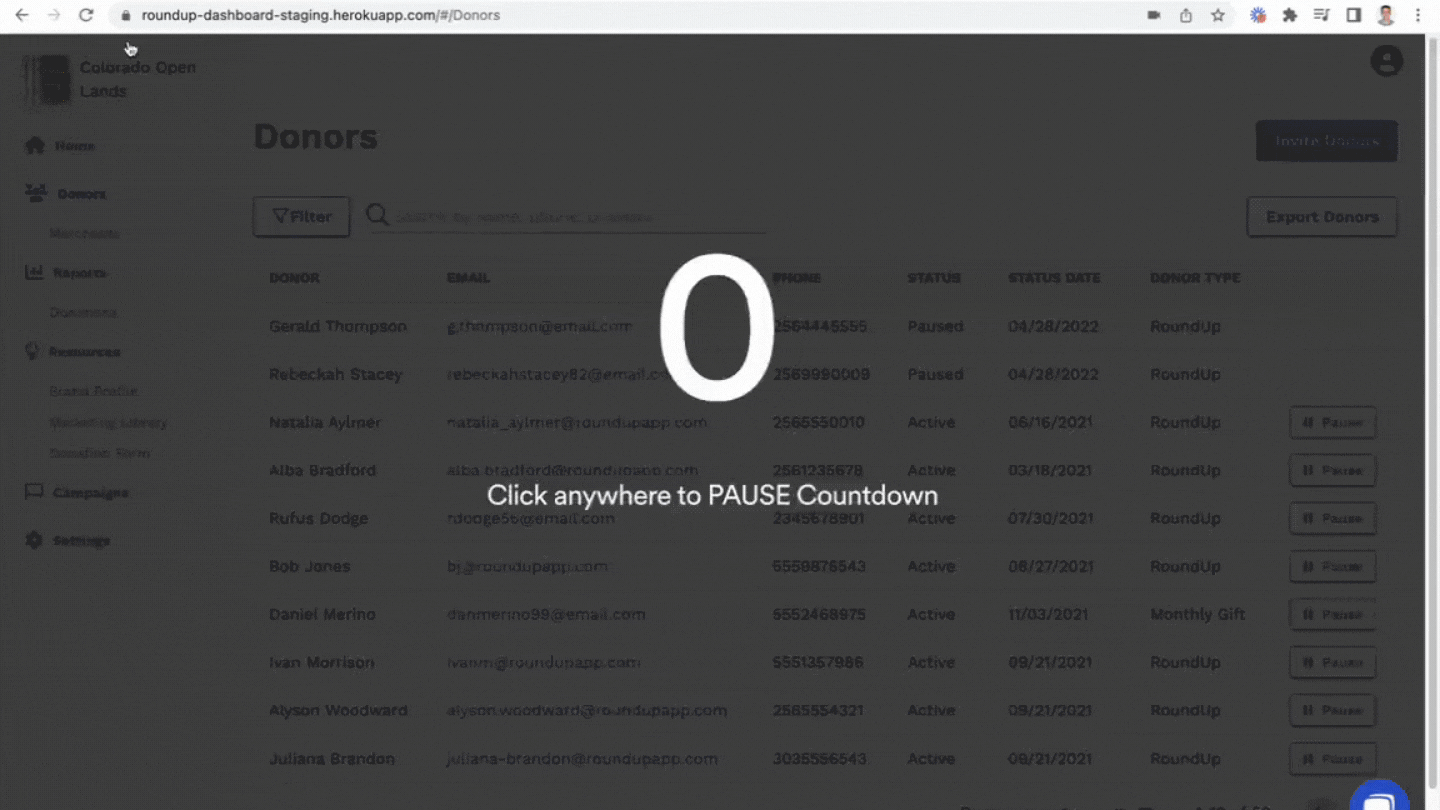 Clicking on each specific donation will give you more information on the donor that made that donation.
Best of all? All of this information is exportable as a customizable CSV. You'll only download the information you need, for the time periods you choose.
Donors page
With this update, we've improved the donor management tools we currently offer, giving nonprofits more tools to track, filter, and manage the donors they bring into RoundUp App!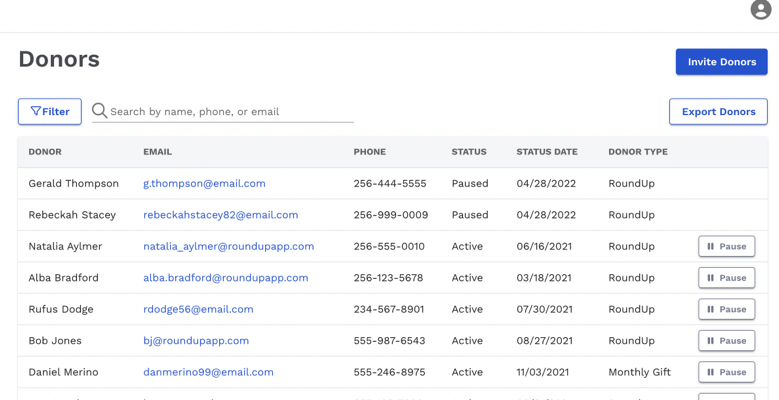 From the donors page, you'll see a list of all your donors with name, email, phone number, status, signup date, and donor type listed. You'll be able to search by a donor name, email or phone number, as well as filter by the type of donor they are (RoundUp, monthly, one-time giver) or the status of their donation (Paused, inactive, active).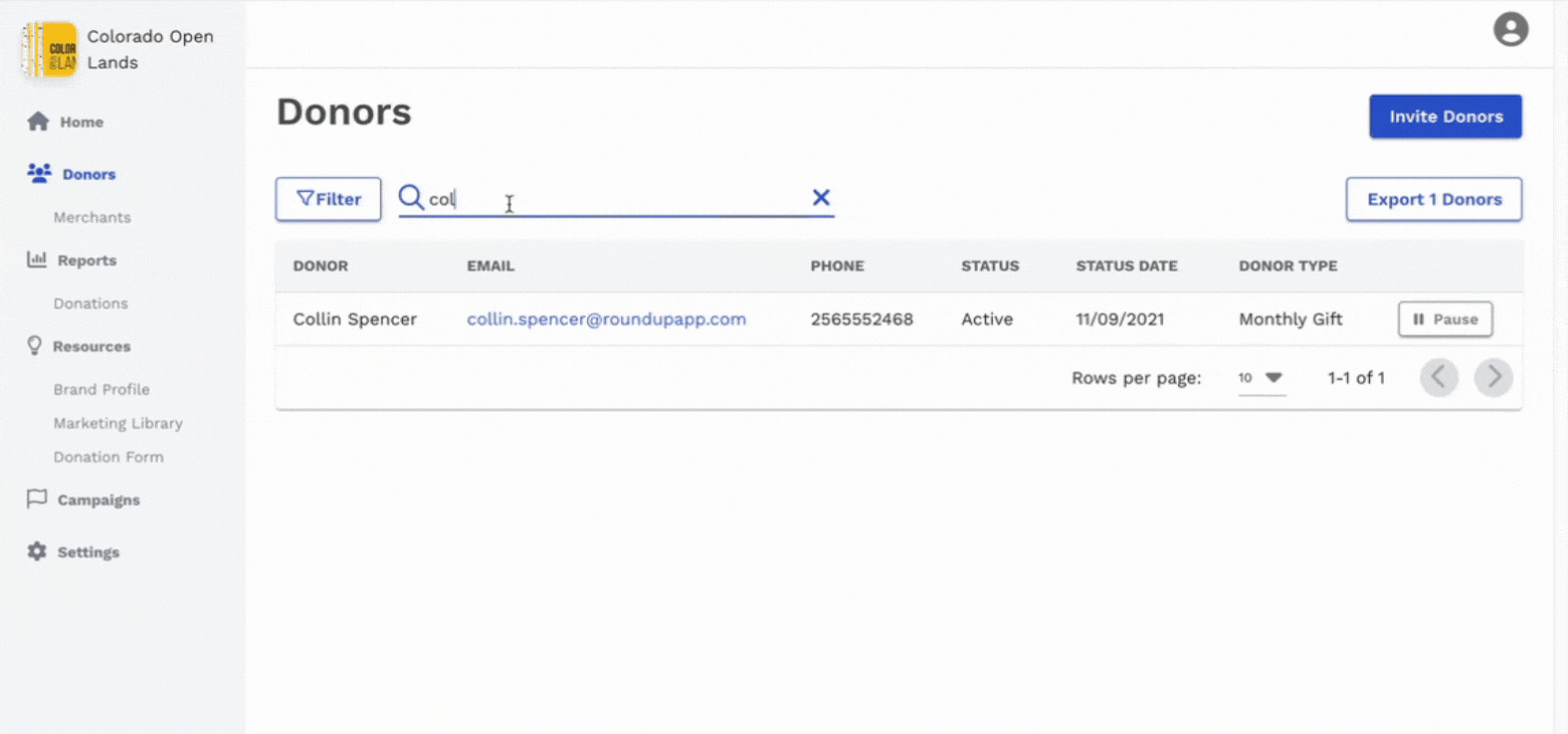 We've also made it possible for nonprofit administrators to pause individual donors without contacting support! Administrators have the ability to pause donors when asked, but currently not to restart donations on behalf of a donor.
Billing details
New to this update, nonprofits will now have the ability to view and download all monthly billing receipts. These are conveniently located in the billing details area of your admin dashboard.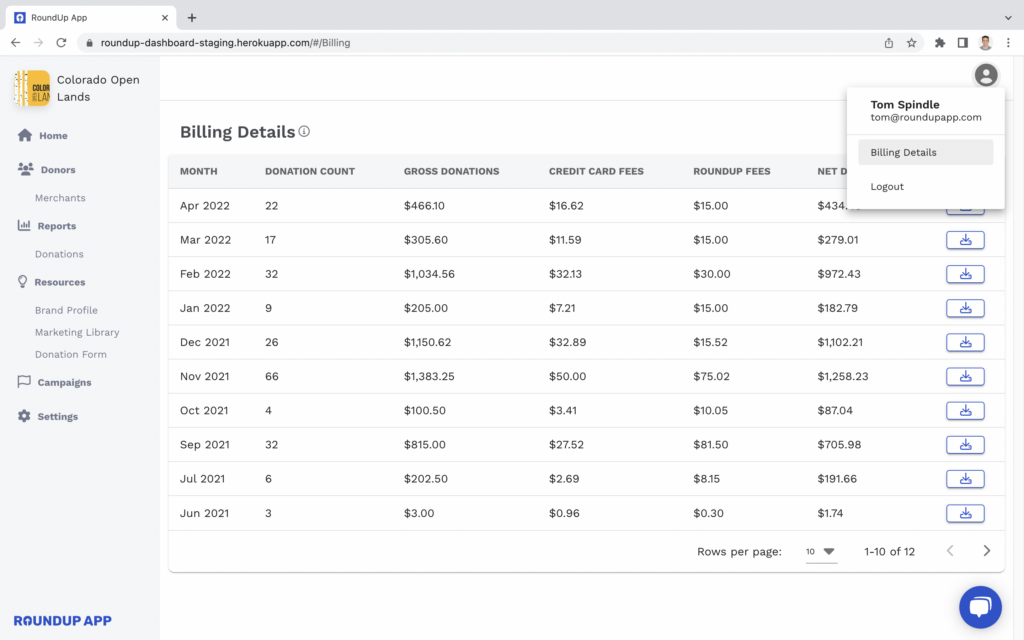 By clicking your profile in the top right-hand corner and clicking "billing details" you can find your billing details page. This info will include the month of the receipt, your total current donation count, gross donation amounts, and info on processing fees. You'll also be able to download each receipt as a PDF directly to your computer.