Fundraising tools come in all shapes and sizes. For your nonprofit to be successful you'll need to use a wide range of tools all designed to help you raise and manage funds effectively.
Nonprofits rely on the funds they raise to ensure the overall success of their organization and the causes they support. When looking for fundraising tools you'll want to consider a few types of tools:
Tools that make it easy to receive funds
Tools that make it easy to manage donors and donations
Tools that make marketing easier
Fundraising tools that make receiving donations easy
Embeddable donation forms
The most critical fundraising tool your organization is going to need is a high-quality and customizable donation form! Donation forms are the main way you'll be receiving donations to your nonprofit so you have to go with the best.
When searching for the right donation form you need one that fits all of these criteria:
It's embeddable across the web
It's customizable for your brand
It's easy to use for all types of donors
It allows multiple ways of giving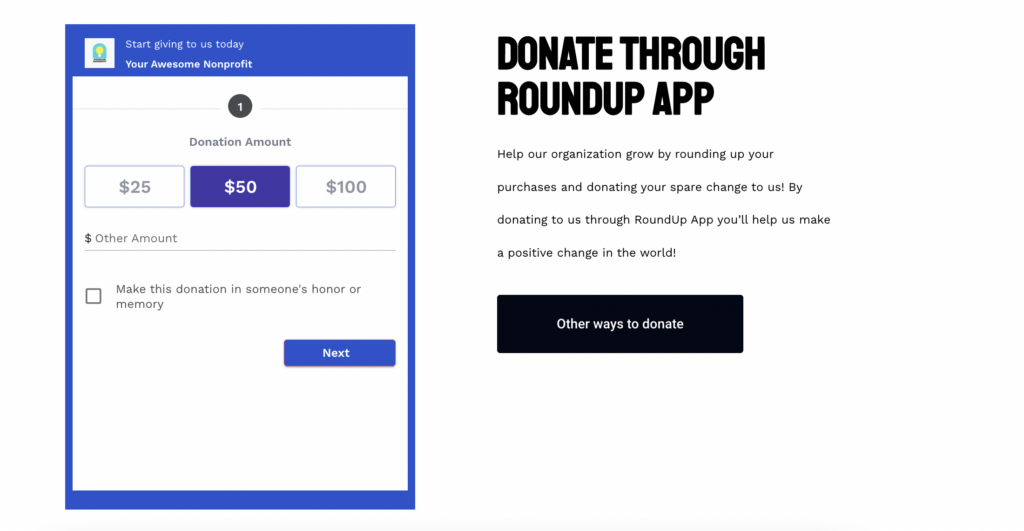 Our embeddable donation forms meet all of these criteria. We know that nonprofits might have small budgets or limited expertise with online donation forms. That's why we made ours easy to embed on various websites. By copying the code and pasting it into an embed section, you can instantly gain access to donations.
Customization is a big feature that nonprofits need. You'll want your donors to instantly recognize who they're giving to. So look for donation forms that allow the changing of colors, logos, and cover photos.
You'll also want something that accepts multiple methods of donating and is easy to use for all types of donors. This means finding a form that tech-savvy people can use just as easily as those with limited experience with online giving.
Mobile-first platform for your donors
Mobile giving is a growing trend. In 2021 more than 25% of donations were made using a mobile device. When looking for fundraising tools that help your nonprofit succeed, you'll want to focus on platforms and tools that take a mobile-first approach to giving.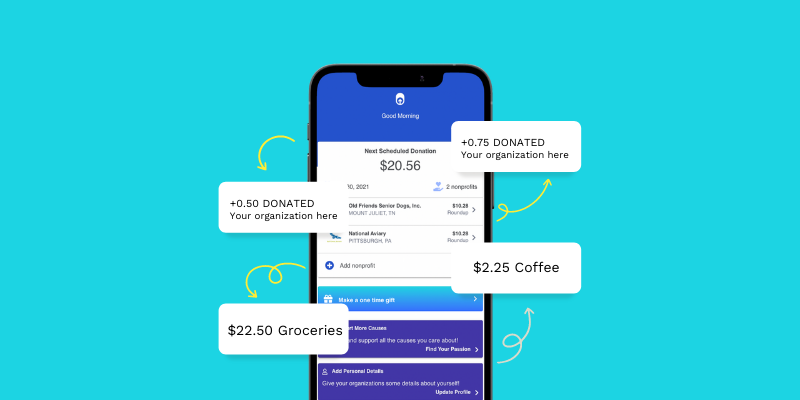 Apps like RoundUp App offer all nonprofits a mobile-first donor platform available for Google and Apple devices. The donor app lets donors make new RoundUp, monthly, and one-time donations while also giving them control over their donations. 
When considering tools for your fundraising efforts, make sure to test them on your mobile device. Ensure that mobile donors can access campaign pages, signup forms, donation forms, or all other tools on mobile devices.
Ecommerce and merchant connections
Nonprofits understand how valuable it is to partner with local merchants or eCommerce stores. Giving donors a way to give back as they spend normally is a huge win. While in-person connections are a great source of extra income, eCommerce connections can have a huge impact on your donation streams.
RoundUp App integrates with popular Ecommerce platforms WooCommerce, BigCommmerce, and offers its own API for additional connections. Our platform makes it super easy for online stores to find your organization and add it to their checkout process. When an online store adds your organization to their checkout process they'll give donors the ability to RoundUp their purchase and donate it directly to your organization 
Improve your fundraising with templates for social media. email, texting, and more.
Fundraising tools that make managing donors and donations easier
Platforms for Donor research
To better understand your audience you'll want to invest in platforms that can help you learn more about your donors. Donor platforms like DonorSearch or Candid can provide you with detailed breakdowns of where donors give and how much they give to various organizations. 
Another great source of information on donors or donation trends is the publicly available data from The Securities and Exchange Commission and the Federal Election Commission. This type of public information can be useful for gleaning more data about certain businesses or providing strong historical data on giving trends by companies or donors.
Tools for tracking donor data
When planning any new fundraising effort your organization is going to need solid tools for tracking donor data. By tracking donor data you'll be able to better understand the needs of your donors as well as the successes of your organization.
With Ribbon and RoundUp App we give all organizations a comprehensive way to track donors and donations. When looking for tools to track donor data, be mindful of how much data they allow you to collect on your donors. Also consider whether or not that can be integrated effectively into other platforms you're already using.
Consider tools, like Ribbon and RoundUp App, that give you access to date-based reporting on donations as well as tools that make accessing and updating donor information super easy.
CRM platforms for nonprofits
A customer relationship manager, also known as a CRM, is a vital tool for nonprofits. While not directly tied to asking for or receiving funds from your donors, CRMs help your organization better manage your contacts and keep track of all the information you send out.
There are plenty of CRMs to choose from, each with their own features, pros, and cons. In general, look for a platform that lets you track donor data and donors. You'll also want one that integrates with marketing platforms you already use. 
Tools for creating engaging marketing campaigns
Every good fundraising push is going to require some marketing. That's why you'll want to invest in tools that help you easily create new and engaging marketing campaigns.
Social media marketing tools
One of the tools we recommend is Canva. Canva makes it super easy for anyone to create new social media posts or other marketing assets. We offer dozens of pre-made social media templates you can instantly edit with your Canva account.
You'll also likely want to invest in a social media scheduling tool that makes it easy to share posts across channels. Platforms like Sprout Social, Sprinklr and Hootsuite help you schedule and manage social media messages across channels. Using one of these platforms will make it even easier for you to create engaging marketing campaigns.
Email marketing tools
Email marketing continues to be one of the highest-performing marketing channels across industries. When looking for new fundraising tools for your nonprofit, focus on finding an email marketing platform that's reliable and easy to use.
Here's a list of popular email marketing platforms:
If you already have a reliable email marketing platform, check out other email marketing resources like ReallyGoodEmails and BeePro which give you email inspiration and a robust email builder respectively